Rabbi David and Jenny Eckstein
Rabbi David Eckstein completed his graduate studies for Rabbinic Ordination at the Rabbi Isaac Elchanan Theological Seminary of Yeshiva University and a Master of Public Administration at Baruch College, where his Capstone focused on the topic of Birthright Madrichim. Prior to that, he received a B.S. in Accounting from Yeshiva University.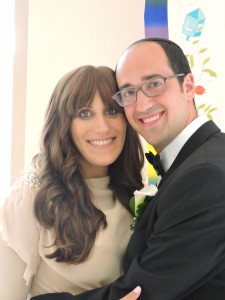 Rabbi Eckstein previously served as the Director, Community Engagement at the Manhattan Jewish Experience (MJE) in New York City.  In this role he focused on creating opportunities for Birthright alumni through MJE events, while building partnerships with other organizations in the city.  Rabbi Eckstein has served as a Presidential Fellow for Yeshiva University's Center for the Jewish Future.  He has served as a Rabbinic intern at Anshe Shalom B'nai Israel Congregation of Chicago, Illinois, a development intern at the Jewish Community Relations Council of NY   and a summer intern at the Israeli Ministry of Welfare and Social Services.
Jenny Eckstein was born and raised on the Upper East Side of Manhattan. She attended Midreshet Moriah seminary in Israel and subsequently attended Stern College where she majored in speech language pathology and audiology.  Jenny received her Masters degree in speech language pathology from CW Post.
Jenny has most recently worked at the Shield Institute, a clinic that facilitates communication for adults with developmental disabilities.  Additionally, Jenny has also continued her work  with the special needs population as she served as a speech language pathologist at an IRA in the Bronx where she assists communication  among group home residents in their home environments. She is an active volunteer with many Jewish organizations including Camp HASC, Keren Or, Manhattan Jewish Experience and the Gift of Life.
Rabbi David and Jenny are both thrilled and excited to be joining the Johns Hopkins community!